Have your fireworks shipped directly to your location. Star Spangled ships nationwide via common carrier. Fireworks are not allowed to ship via USPS or UPS. All shipments ship common carrier with regional service as soon as next day with most states 1-5 shipping days depending on distance. Please call or email for an estimate of shipping time. Please include your zip code. Shipping costs vary by order weight, number of pallets included in order and zip code. Residential delivery and special delivery instructions will add to shipping costs. Check your order in carefully as all shorts and damage are the responsibility of the carrier, not Star Spangled.
Pick your fireworks up at our warehouse. We would be happy to have you visit our warehouse and showroom. In the interest of providing superior service, all pick-ups require an appointment and an order in advance.

No minimum order.
Star Spangled Novelties carries only the best brands of fireworks!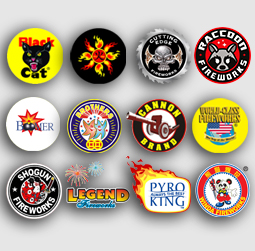 And many more...