PURCHASE AND USE TIPS
Always purchase fireworks from a reliable source.
Read and follow all warnings and instructions on package.
Always have close adult supervision and never give fireworks to small children.
Never throw or point fireworks at another person.
Only use outdoors, in a clear area, away from structures and overhead obstacles like trees.
Make sure spectators are at a safe distance.
Have a fire extinguisher and/or a water supply readily available.
Light only one firework at a time and wear eye protection.
Do not attempt to re-light fireworks that have not fully functioned.
Do not experiment with homemade fireworks.
Follow the laws in your state or region.
Use common sense.
Be aware of conditions including wind.
Star Spangled Novelties carries only the best brands of fireworks!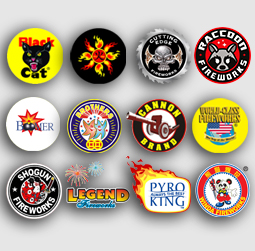 And many more...